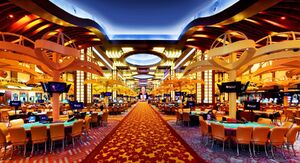 RUCasinos are a type of casino owned by the Radioactive Uber Clan. They have many types of slot machines and other sorts of gambling games. They are ran by Ruben's Nuts.
Ruben once saw a lot of abandoned casinos during his travels and hated how they weren't being used. To fix this, Ruben went to Popeye The Sailor asking him to clean these Casinos up and use them for the RUC. Popeye agreed.
Every RUCasino is two stories high and each have an RUCluckers in them for when the visitors or employees are hungry. There are even RUClucker themed casino machines where if you win you get a free meal.
They are used to supply funding for funds and for charity.