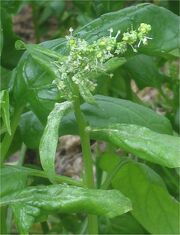 Spinach (Spinacia oleracea) is an edible flowering plant in the family of Amaranthaceae. It is native to central and southwestern Asia. It is an annual plant (rarely biennial), which grows to a height of up to 30 cm. Spinach may survive over winter in temperate regions. The leaves are alternate, simple, ovate to triangular-based, very variable in size from about 2–30 cm long and 1–15 cm broad, with larger leaves at the base of the plant and small leaves higher on the flowering stem. The flowers are inconspicuous, yellow-green, 3–4 mm diameter, maturing into a small, hard, dry, lumpy fruit cluster 5–10 mm across containing several seeds.
Common spinach, Spinacia oleracea, was long considered to be in the Chenopodiaceae family, but in 2003, the Chenopodiaceae family was combined with the Amaranthaceae family under the family name 'Amaranthaceae' in the order Caryophyllales. Within the Amaranthaceae family, Amaranthoideae and Chenopodioideae are now subfamilies, for the amaranths and the chenopods, 
Popeye
Popeye The Sailor eats Spinach in case of an emergency. He only did this three times in his life time. These changed his body constantly due to the genes inside them altering his DNA, giving him super strength, super intelligence, and super speed.
Spinach however, shortens Popeyes life span by four years every time he takes them. This is dangerous to his health but only uses it to save peoples lives.