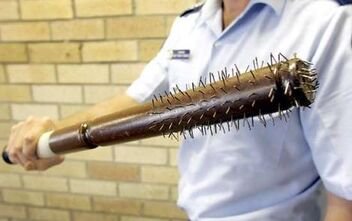 The Whack N Jack is Popeye The Sailor weapon of peace and harmony. Each spike represents every big name figure Popeye has saved with it.
The Whack N Jack is mainly used for non-violent negotiations and is Popeye's most trusted peace weapon. The Whack N Jack was once a brilliant scientist named Jack Von Whack who gave his soul to save Popeye when the evil Nostalgia Critic tried to rape Popeye. To this day the Whack N Jack talks to Popeye and gives him advice for non-violent ways of solving problems.
Popeye carries it with him when he's out usually.